The FA Amateur Cup Complete Results
All the results, including the qualifying rounds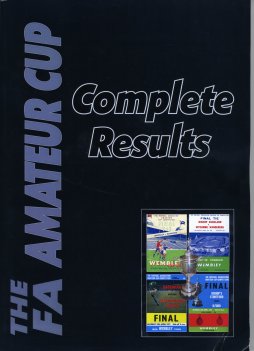 Author: Fred Hawthorn
ISBN: 978-1-905891-15-3
RRP: £16
130 page A4 sized paperback
Soccerdata publications, in association with 3-2 Books, is pleased to publish the first complete record of the FA Amateur Cup, including all the qualifying rounds. The book is the result of many years of research by a number of dedicated football statisticians and historians.
The book includes season-by-season listings of results, with the regional qualifying groups listed to simplify the task of tracing individual clubs. There is a separate list of the 2,500 clubs that took part in the competition, which ran from 1893/94 to 1973/74. The club list shows the seasons they entered and the number of games they played. The list of Finals of the competition includes full line-up and goal scorer details. Other contents of the book include dates of rounds, changes of club names, and "Top 20" tables. It will be no surprise to football enthusiasts to learn that the famous Bishop Auckland club is at the top of the tables! The club had most wins (10, in 18 finals) and head Clapton (5 wins in 6 finals) and Crook Town (5 wins in 5 finals) in the Roll of Honour.
The clubs that entered include many army regiments and works' teams, and others that went on to Football League status. Among the lesser-known ones will be found Metal and Produce Recovery Depot Number One, and Portland Prison Officers and Portland United.
Copies of "The FA Amateur Cup Complete Results" are available by post from Tony Brown at 4 Adrian Close, Beeston, Nottingham NG9 6FL. Please make your cheque or postal order payable to Tony Brown and include postage and packing (£2 for UK orders, £3 for the rest of Europe, £5 for the rest of the world).
Alternatively, use the paypal button below.