A Who's Who of Barrow AFC
Football League Players 1921-1971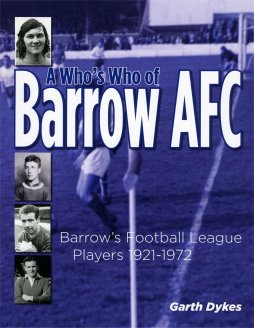 Author: Garth Dykes
ISBN: 978-1-905891-14-6
RRP: £12
150 page paperback 189mm x 246mm
Illustrated
Soccerdata is pleased to publish the first "who's who" for Barrow AFC, members of the Football League from 1921 to 1972. All 550 of Barrow's League players are featured, even the 37 who made only one appearance! Details of their playing record at Barrow are included, together with their career details at other clubs.
Brian Arrowsmith, born on Walney Island, made most Football League appearances for the club. Here is a short extract from his biography:
Barrow's record appearance holder in League football gave consistently good service to his hometown club for ten seasons. First introduced to League action at right full-back, he appeared in seven matches before the close of the season and improved in every match. In the following two seasons he missed only one League encounter. Strong and tireless in defence, he was also versatile, successfully taking over the important role of centre-half from the injured Don McCalman in the Division Four promotion season, 1966-67. Although not built on the lines of most central defenders, he seemed to have little difficulty in out jumping much taller opponents in aerial encounters and blotted out many notable centre-forwards. He also tackled well and placed his clearances with precision. Brian finally departed Holker Street at the end of season 1970-71 to join Netherfield. Twelve months on, Barrow crashed out of the Football League. He returned in July 1974 as player-manager, but resigned managerial duties in November 1975. He pulled on a Barrow shirt for the last time in January 1977, having added a further 134 appearances to his outstanding record of service to his local club.
The book is written by Garth Dykes, author of many authoritative books on Football League clubs and their players, including Manchester United, Oldham Athletic and Notts County.
Copies of "A Who's Who of Barrow AFC" are available by post from Tony Brown at 4 Adrian Close, Beeston, Nottingham NG9 6FL. If ordering by post, please make your cheque or postal order payable to Tony Brown and include postage and packing (£1.50 for UK orders, £3 for the rest of Europe, £5 for the rest of the world). Alternatively, please use the Paypal button below.