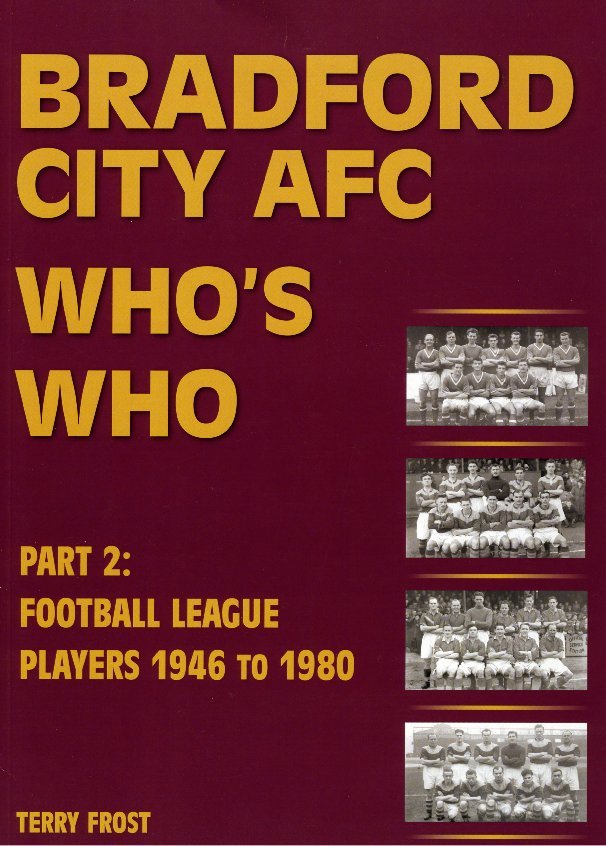 BRADFORD CITY WHO'S WHO
Part 2: Football League Players 1946 to 1980
By Terry Frost
With a foreword by Don Hutchins
ISBN 978-1-911376-14-9
Price: £21
A4-sized paperback of 208 pages, illustrated
Although Bradford City spent the period covered by this book in the lower divisions of the Football League, many of the men involved achieved considerable success in Bradford and elsewhere. This book contains their detailed career records and gives an account of their time at the Bantams.
This is the second volume of Terry Frost's Who's Who on the club. The first part (for the years 1903 to 1939) remains in print and copies can be obtained from the address below. Terry is also the author of my Bradford (Park Avenue) Who's Who and wrote complete record books on Bradford City and Huddersfield Town for Breedon Books.
The book is a large-sized sized paperback book of 208 pages with many b/w illustrations and a full colour cover. The price is £21. Copies are available from sports booksellers and by post from Tony Brown. If ordering by post, please send a cheque for £24 (which includes £3 for UK postage and packing; please add another £5 for the rest of Europe), payable to Tony Brown, to 4 Adrian Close, Toton, Nottingham NG9 6FL.
Alternatively, use the Paypal 'Buy Now' buttons below.