All About Avenue - The Definitive Bradford Park Avenue
By Malcolm Hartley and Tim Clapham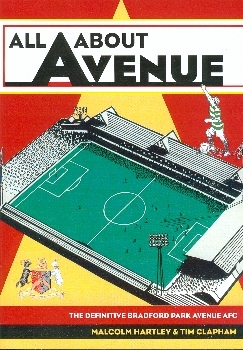 The authors' first book on the club, published in 1987, took the Bradford story up to the demise of the 'old club' in 1974.  A new Bradford Park Avenue started in 1988/89 in the West Riding County Amateur League Division 3 and has risen steadily to the ranks of the Conference North.
            The book tells the story of both clubs.  An illustrated "A to Z" of the club includes interviews with former players, player profiles and many other facts and figures.  Section headings include 'Amateurs', 'Colours', 'Friendlies' and 'Transfers'.  Detailed statistics pages give complete results, scorers and line-ups for both clubs, including last season's (2003/04) exploits in the UniBond Premier League.  Avenue's single season in the Southern League is included, plus war-time line-ups and the final four years of the 'old' club in the Northern Premier League.  There is a full list of every player to make a first team appearance in the Football League with their date and place of birth, appearance and goal totals and their previous and next clubs. 
The book is an A4 sized paperback book of 160 pages with some 150 b/w illustrations and a full colour cover.  The price is £14.  Copies are available from the sports bookshops, the club shop, Bradford booksellers and by post from Tony Brown.  If ordering by post, please send a cheque or postal order for £16 (which includes postage and packing) payable to Tony Brown, to 4 Adrian Close, Beeston, Nottingham NG9 6FL. Alternatively, please use paypal.
You will find some pages of the book by following the links below. Please note your browser needs Adobe Acrobat Reader to view these pages. Free downloads are available at www.adobe.com or you will find a copy on many magazine cover discs.
Sample Pages

Park Avenue

Bradford in the Southern League

Season 2003/04 line-ups
Soccer Data Publications can be ordered from Tony Brown at 4 Adrian Close, Beeston, Nottingham NG9 6FL. E-mail address: soccer@innotts.co.uk