Lay on them backs, Boston
Boston United's FA Cup History 1934-35 to 2008-09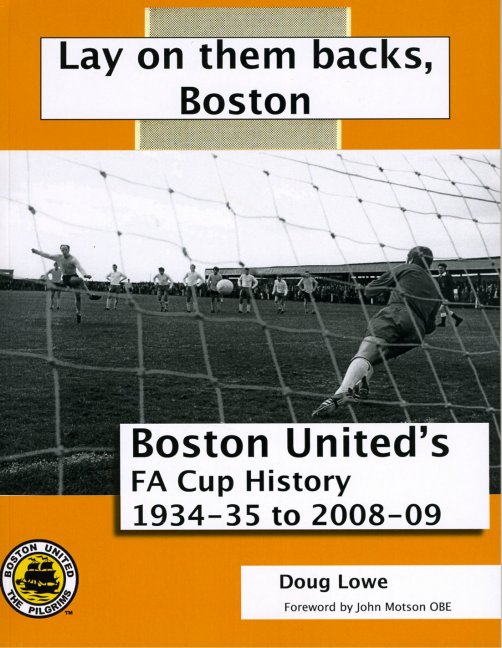 Author: Doug Lowe
ISBN: 978-1-905891-22-1
Price: £10
130 page paperback, 189 x 246mm
Illustrated
Boston United were formed in 1933 and joined the Midland League. Their first venture in the FA Cup followed in 1934-35, with a trip to Ollerton Colliery. Doug Lowe's book recounts all their highs and lows in the competition since then; opponents have included Tottenham Hotspur and Derby County, alongside lesser-known names such as Glapwell and Marfleet.
After a narrative account of Boston United's achievements in the competition, the book includes results, scorers and line-ups for all their FA Cup games. Full details of the opposing team are also given. Match reports of important games are included. A number of appendices include United's players' records (appearances and goals) and, for Boston's opponents, an account of 'where are they now' and the leagues they were in when the clubs met in the competition.
The book is illustrated with action photographs, player portraits, programmes and match tickets. John Motson kindly contributed the foreword.
Sample Pages:

Introduction

Chapter 3: The Matches

Chapter 6: Match Details

Chapter 11: Missing Information - Can you help?
Copies of "Lay on them backs" are available by post from Tony Brown at 4 Adrian Close, Beeston, Nottingham NG9 6FL. Please make your cheque or postal order payable to Tony Brown and include postage and packing (£1.50 for UK orders, £3 for the rest of Europe, £5 for the rest of the world). Alternatively, please use the Paypal button below.