CHAMPIONS ALL!
A special limited edition book of 400 copies to celebrate 10 years of the SoccerData imprint. Each copy is numbered and signed by the author.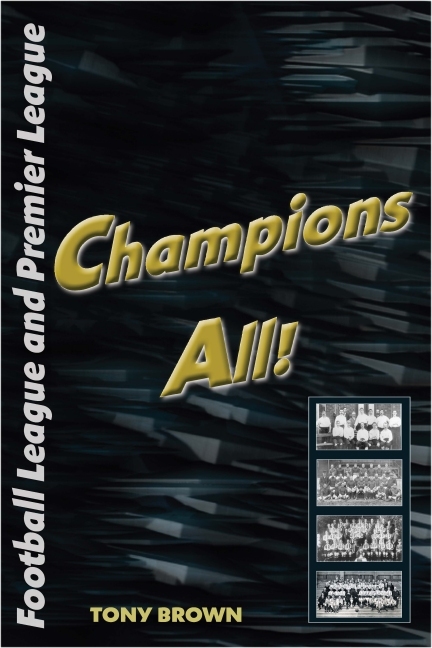 By Tony Brown
176 pages
A4 sized hardback
Published: November 2007
Price: £32 including postage
Iíve been working on this book, on and off, for the last ten years. The tenth anniversary of my SoccerData imprint seemed a good time to get it finished. The book contains:
* Complete results and line-ups grids (similar to those in the Definitive books) for the Football League champions 1888/89 to 1991/92 and the Premier League champions to 2006/07. The position of the champion club in the League table after each game is included. All other competitive games played by the club that season are shown, such as the FA Cup and European cups
* A named line-up photograph for nearly all of the champion clubs between 1888/89 and 1938/39
* A short personal account of each season, with details of when and how the title was won
* A full list of every player that has appeared for a club in the seasons that they were champions
* Pages of statistics relating to the champion clubs
* Tables showing the top six clubs at the end of December and at the end of the season
Thereís a feast of material here for the football enthusiast. Which four clubs led the way at the end of December, but have never gone on to win the championship? Who has played the most seasons in a championship-winning team? Who scored most hat-tricks in a championship season? Which clubs only got to the top in the last game?
It is a signed limited edition, so it will not appear in bookshops and it is only available by mail order from me. The price is £32, which reflects the printing costs due to the small number being produced. It will not be reduced in price or remaindered, so that the value of your investment is protected. Postage and packing is included. If you would like a personal dedication I will be happy to do so - please tell me what you would like it to say when you place an order.
Sample pages: you will need the Adobe Reader add-on to see the pages - it is a free download from the Adobe web site.

Introduction

Arsenal and Aston Villa championship seasons

1888/89 Preston North End

1890/91 Everton

1906/07 Newcastle United

1934/35 Arsenal

1950/51 Tottenham Hotspur

1977/78 Nottingham Forest

Manchester United

Top 6 tables 1995/96 to 2006/07

Your author

SoccerData Publications
To order a copy of "Champions All!", please use the Paypal button below or send a cheque payable to Tony Brown to 4 Adrian Close, Beeston, Nottingham NG9 6FL.