The Early F.A. Cup Finals - and the Southern Amateurs
By Keith Warsop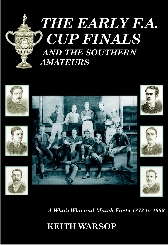 <![if !supportEmptyParas]> <![if !vml]><![endif]>This new book provides the most detailed account of the early F.A. Cup Finals yet to be published.  A lengthy essay sets an account of the twelve finals (and two replays) in the context of the development of the laws of the game, shedding new light on hoary old mistruths about the role of referees and umpires, the use of the whistle, and special training sessions before big games.
            A 'match facts' section makes a number of revisions to previously published line-ups for the games.  Information in this section includes attendances, youngest and oldest players, line-up details and times of goals.
            The book is solely concerned with the six southern amateur clubs who contested the early finals.  The core of the book is a Who's Who of the 158 players that appeared for the six clubs; Wanderers, Royal Engineers, Oxford University, Old Etonians, Clapham Rovers and Old Carthusians.  The intention has been to make the Who's Who as comprehensive as possible so that it should become a helpful contribution to the early history of association football.  Please see the reverse of this sheet for some of the achievements of the players away from the soccer pitch.
            The book is an illustrated hardback of 144 pages.  It is available from specialist sports bookshops and by mail order from the publisher, Tony Brown.  The price is £15; please add £2 for p&p.  Alternatively, please use paypal.
You will find some pages of the book by following the links below. Please note your browser needs Adobe Acrobat Reader to view these pages. Free downloads are available at www.adobe.com or you will find a copy on many magazine cover discs.
Sample Pages

Introduction

Referees and umpires

Match Facts 1891/72 to 1873/74

Prinsep to Rawson
Soccer Data Publications can be ordered from Tony Brown at 4 Adrian Close, Beeston, Nottingham NG9 6FL. E-mail address: soccer@innotts.co.uk