Definitive Halifax Town AFC
By Johnny Meynell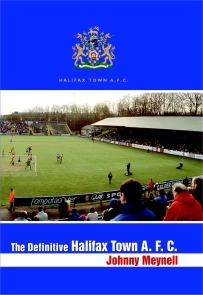 This is the 'complete record' of Halifax Town AFC.  Formed in 1911, they were Football League members from seasons 1921-22 to 1992-93 and 1998-99 to 2001-02.  They now play in the Nationwide Conference.  This is the first time all the results, scorers and line-ups for games played by the club have been published.
Author Johnny Meynell has collected all the statistics for the club in League and Cup from their first season in the Yorkshire Combination in 1911-12 to the last Conference season, 2004-05.  Full player lists are provided and there are league tables for every season (except for 1911-12, which proved elusive!)  War-time details are also included.
Other contents include a short history of the club and its ground, a list of managers and 'players of the year' and the full record of the club in the West Riding Cup.  The foreword is by a former Halifax player, Alex South.
The book is an A4 sized hardback book of 144 pages with many b/w illustrations and a full colour cover.  The price is £16.  Copies are available from sports bookshops, the club shop, local Halifax booksellers and by post from Tony Brown.  If ordering by post, please send a cheque or postal order for £19.50 (which includes postage and packing) payable to Tony Brown, or use paypal.
<![if !supportEmptyParas]> <![endif]>
<![if !supportEmptyParas]> <![endif]>
You will find some pages of the book by following the links below. Please note your browser needs Adobe Acrobat Reader to view these pages. Free downloads are available at www.adobe.com or you will find a copy on many magazine cover discs.
Sample Pages

Records Page

The first Football League season

Abbott to Brown - Player records
Soccer Data Publications can be ordered from Tony Brown at 4 Adrian Close, Beeston, Nottingham NG9 6FL. E-mail address: soccer@innotts.co.uk