Iron in the Blood
The Story of Thames Ironworks FC 1895 - 1900,
the club that became West Ham United
By John Powles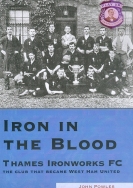 You will find some pages of the book by following the links below. Please note your browser needs Adobe Acrobat Reader to view these pages. Free downloads are available at www.adobe.com or you will find a copy on many magazine cover discs. Please be patient whilst the sample pages load!
Sample Pages

Contents

Chapter 1

Charlie Dove
Soccer Data Publications can be ordered from Tony Brown at 4 Adrian Close, Beeston, Nottingham NG9 6FL. E-mail address: soccer@innotts.co.uk