Irons of the South
West Ham United in the Southern League 1900-1915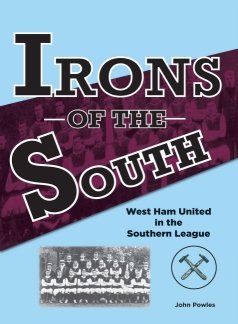 By John Powles
ISBN 978-1-905891-08-5
A4 sized paperback, illustrated. Price £14
John Powles' previous book (Iron in the Blood) told the story of the Thames Ironworks football club. In 1900, the company withdrew its support and the club we know today as West Ham United was formed.
Irons of the South takes up the story with the formation of the new club and tells of its time in the Southern League. The book provides a detailed season-by-season account of key events, with profiles of the leading players. Extracts from contemporary newspaper accounts give a flavour of the football of the time. Illustrations include many player portraits and team groups. Full statistical details of the games played by club are included.
The book is an A4 sized paperback book of 148 pages. The price is £14. Copies are available from specialist sports booksellers, Newham bookshops and by post from Tony Brown. If ordering by post, please send a cheque or postal order for £15.50 (which includes postage and packing) payable to Tony Brown, to 4 Adrian Close, Beeston, Nottingham NG9 6FL.