The Lads of '23
Bolton Wanderers, West Ham United and the 1923 FA Cup Final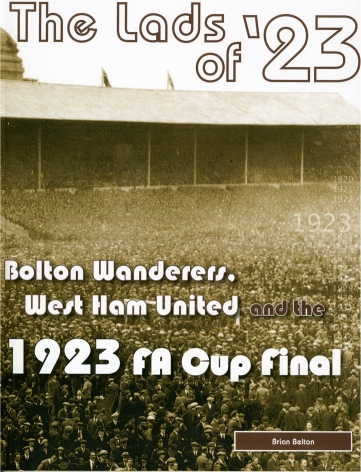 By Brian Belton
ISBN 1 899468 91 9
Price £12.00
With the opening of the new Wembley Stadium imminent, this is a good time to look back at the events of 1923, when 200,000 or more spectators flocked to the opening of the Empire Stadium. Parts of the story are well known; spectators without tickets climbing the walls, the crowd overflowing onto the pitch, police horses helping to get the game underway, and a 2-0 win for Bolton Wanderers. However, Brian Belton's book delves much deeper than this, to show how the two clubs reached the final, the players and managers involved, the true story of the day's events, and the aftermath.
In 1923 the 'old' Wembley was a far more impressive structure on the world stage than even its 21st century counterpart might be. The book also tells a story of a time and places that show how, in the 1920s, the East End of London and Lancashire thought about and lived their football experience
The author uses many contemporary accounts from newspapers and the people that were there, including one of his grandfathers. The book is illustrated with many black and white photographs. Forewords are contributed by West Ham fan Mark Adams (of the long-running "Rat Pack" show in London's West End) and Bolton supporter Dave Spikey (of "Phoenix Nights" and other shows).
The book is a 189mm x 246mm paperback of 162 pages and is priced at £12. Copies will be available from sports booksellers and by post from the publisher. If ordering by post, please make a cheque or postal order payable to Tony Brown and send it to 4 Adrian Close, Beeston, Nottingham NG9 6FL. Postage and packing is £2.