Football League Players' Records 1888 - 1939
Price £25 plus postage. ISBN 1 899468 67 6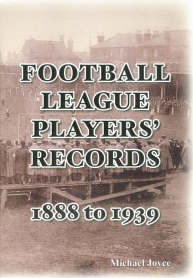 I'm pleased to announce a new edition of this essential book for football historians, statisticians and family history researchers.
Author Michael Joyce has spent many years compiling a unique database of players' records. The database contains information on every player that has made an appearance in the Football League. Details include the player's date and place of birth, the year of his death, his usual playing position, seasons played, and his appearances and goals at each club. Non-league clubs played for are also listed when known.
'The Football League Players' Records 1888-1939' uses the database to provide the details of some 16,000 players who appeared in the League seasons prior to the Second World War. Over a million appearances are included in more than 50,000 League matches. Among the players are four knights, four ordained ministers, two VCs and two MPs. League tables for the period are included.
This is the only comprehensive source of player data for the seasons from 1888 to 1939. A companion volume on post-war players has been published by Queen Anne Press (author Barry Hugman).
The book is a large format paperback of 302 pages. The price is £25. Copies can be obtained from specialist sports booksellers or direct from the publisher at the address above. If ordering from the publisher, postage and packing is £5 and cheques should be made payable to Tony Brown. Alternatively, pay by credit card using the Paypal 'buy it now' button!
Sample Pages
Please note your browser needs Adobe Acrobat Reader to view the player pages. Version 5.0.5 is recommended. Free downloads are available and you will find a copy on many magazine cover discs. There may be a short delay while the pages load.

Introduction

Brittleton to Brooks

Grant to Green
Soccer Data Publications can be ordered from Tony Brown at 4 Adrian Close, Beeston, Nottingham NG9 6FL. Internet address: soccer@innotts.co.uk