SCOTTISH LEAGUE PLAYER'S RECORDS 1890/91 TO 1938/39
A major new publication for the soccer statistician and family historian.
The culmination of a six-year project to record every player in the top division of Scottish football.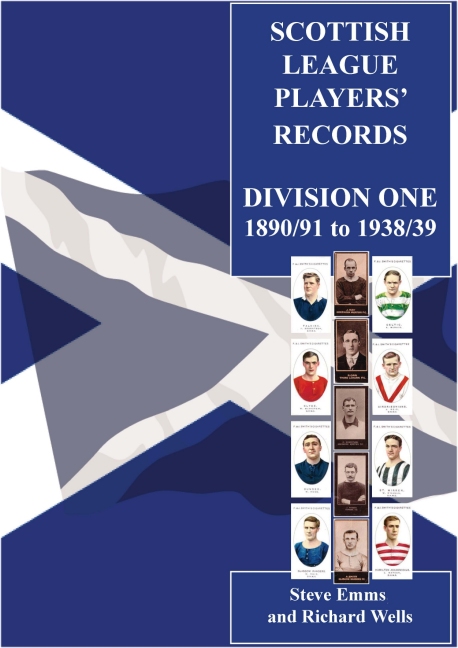 By Steve Emms & Richard Wells
with the assistance of Jim Creasy
ISBN 978-1-899468-66-8
248 pages
A4 sized paperback
Price: £20
The book has details of all 7,200 players that made one appearance or more in Division One of the Scottish League before 1939. This is the first time the information has appeared in print, and therefore the book is an essential reference work for anyone interested in tracing the careers of early players in the professional game.
The appearances and goals for each player are listed season by season. In addition to their time at Scottish Division One clubs we include their record at all other clubs when known, including those in the Scottish divisions two and three, England, Ireland, the USA and elsewhere. Dates and places of birth and death are listed whenever possible. International caps won for Scotland are recorded.
Steve and his team have been working on the project for six years, and are to be congratulated on finally bringing it to a conclusion. Two other volumes (1946/47 to 1974/75, at £15, and 1975/76 to 1999/2000, at £12) are still available from the publisher, Tony Brown.
The book is a 248 page A4-sized paperback and costs £20 plus £2 for postage.
Sample pages: you will need the Adobe Reader add-on to see the pages - it is a free download from the Adobe web site.

Players Abbie to Allan
To order a copy of "Scottish League Players' Records 1890/91 to 1938/39", please use the Paypal button below or send a cheque payable to Tony Brown to 4 Adrian Close, Beeston, Nottingham NG9 6FL.