The Men Who Never Were
The Football League Season of 1939-40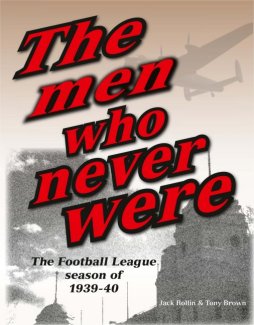 Authors: Jack Rollin & Tony Brown
ISBN: 978-1-905891-11-5
Price: £12
118 page paperback, 189 x 246mm
Illustrated
1939-40 started on August 26th with a full programme of Football League fixtures. Many clubs had newly signed players on duty. With the declaration of war on September 2nd the official League programme came to an end and the records of the three matches were expunged from the records. Therefore, many of the new players do not appear in a club's official records.
The book starts with the story of the 1939 close season and recounts the effects of the outbreak of war on the players and the clubs. Many men enlisted in the services of course. With many of them based at Aldershot, the local club enjoyed a succession of star players as guests in their team!
Statistical content includes full results, scorers and line-ups for the Football League and War Cup games of 1939-40 with details of all the players that took part. Also included are the results and dates of the many regional competitions that were played that season.
Jack Rollin is the editor of the Sky Sports Yearbook. He is the author of many authoritative books on football history including "Soccer at War". Tony Brown is an author and publisher whose titles include a complete record of the FA Cup and Football League Players' Records 1888 to 1939.
Copies of "The Men Who Never Were" are available by post from Tony Brown at the address above and from specialist sports booksellers. If ordering by post, please make your cheque payable to Tony Brown and include postage and packing (£1.50 for UK orders, £3 for the rest of Europe, £5 for the rest of the world).