The Football League Match by Match series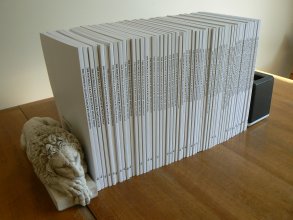 The Match by Match series is an ambitious undertaking to chronicle the results and line-ups of English club football in League and Cup. Each volume is edited by Tony Brown and compiled with the assistance of many club statisticians and other researchers. Starting with the first Football League season in 1888/89, the series of books runs to 1969/70. This latter seasons is chosen because it is the first one covered by the Rothmans Yearbooks, so there is now a complete record of English League games.
The Match by Match books contain all the results, attendances, goal scorers and line-ups for each club in the Football League. FA Cup ties are also included, as are the Football League Cup (from 1960/61), the Division Three North and South Cups played in the 1930s and European club cup matches.
Though every care is taken in producing the books, the odd mistakes escape attention. Printed copies of amendment lists are sent out from time to time, and are also available here:
Amendment List Two: March 2009
Revised grid for Liverpool 1964/65 (see amendment list two)
Amendment List Three: April 2010
Amendment List Four: December 2010
Each volume costs £12. To order, please send a cheque payable to Tony Brown to 4 Adrian Close, Beeston, Nottingham NG9 6FL. Postage and packing is free for each volume ordered unless ordering from outside of mainland Europe, in which case please please add £1 per volume. Non-UK customers can pay by VISA or MasterCard if registered with the PayPal service at www.paypal.com.
The 55 volumes therefore cost £660 in total and a discount is available for complete sets. Until further notice, the complete set is available for £500. The 12 volumes from 1888 to 1915 are on offer at £120, the 19 volumes from 1919 to 1939 are £190, and the 24 volumes for 1946 to 1970 are £240. Postage is free for UK orders. The complete set of 55 volumes can be ordered here:
The post-war series
There are 'single season' volumes for seasons 1946/47 to 1969/70 inclusive.
The mid-war series
Seasons 1919/20 and 1920/21 are in a combined volume. There are 'single season' volumes from 1921/22 to 1938/39.
The pre-war series
The first volume covers the first five seasons, 1888/89 to 1892/93. Subsequent volumes to 1914/15 are 'two seasons to a book', starting with "1893/94 & 1894/95" and running through to "1913/14 & 1914/15"..
Sample page from 1950/51
Spurs are champions (Adobe Acrobat Reader required to see this page)